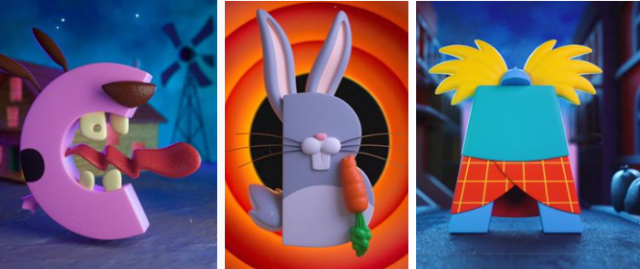 Tadeo Soriano sempre teve curiosidades com desenhos animados quando era criança. Ao crescer, começou a se dedicar a entender melhor as ilustrações 3D e hoje finalmente trabalha com isso. Seu projeto mais recente consistiu em fazer um alfabeto inspirados nos seus desenhos de infância preferidos. E ficou lindo! Confira conosco:
A é para Hey Arnold!
B é para o Pernalonga
C é para Coragem, o Cão Covarde
D é para Dave, o Bárbaro
E é para Elmo
F é para The Wonderful Misadventures of Flapjack
G é para Gary
O H é para Ele (Ele)
O eu é porque sou a Doninha ( Eu sou a Doninha )
J é para Jake Long
K é para Krumm
L é para Lazlo
M é para Mojo Jojo
N é para norma
O é para Ozzy
P é para Pucca
O Q é para Quincy Magoo ( Sr. Magoo )
R é para Reptar
S é para Bob Esponja (Bob Esponja)
T é para Taz
O U é do Professor Utonio
V é para Vicky
W é para Wilt (Wildo)
X é para XLR8
O Y é para Yin Yang Yo!
Z é para Invader Zim
Texto originalmente publicado em genial.guru e adaptado pela equipe do blog Educadores.